Atlanta Homeowners' Trusted Pressure Washing & Gutters Cleaning
Atlanta Pressure Washing
We use only the most up-to-date techniques and cleaning solutions, assuring you that the job will be done right the first time. Our employees are good at what they do, accountable for your satisfaction and are well-informed about products, services, policies and issues to ensure your experience is the best it can be.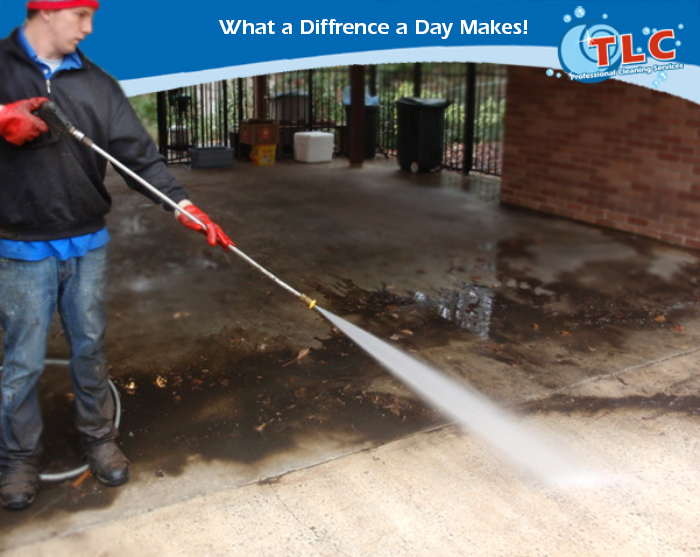 Mold, mildew and algae are three of the main reasons homeowners call us. These not only make your fascia and eves look unsightly they can build up on patios, decks, walls, windows, driveways, stone, windowsills, gutters, brick and concrete retainer walls, as well as pool areas. Your property not only looks unappealing, but over time can be damaged. Regular removal of mold, mildew and algae will enhance the look of your property; it also extends the life of your property.
The above BEFORE and AFTER images clearly show why pressure washing is needed in the Atlanta area.
Georgia's climate and soil content create conditions, which warrant experienced power washing. Red Georgia clay on concrete, wood and stucco are unsightly, as well as harmful to your property and the environment; therefore the need for special cleaning attention and chemicals. Inexperience and the wrong chemicals can damage the walls, concrete and foundation of your home or business property.
Weather, soil erosion, dirt from high traffic areas, as well as grease and oil spills, can mar the look of your driveway and walk ways. Our pressure washing systems can restore a fresh look and add value to your property.
As a quality provider of pressure washing, window cleaning and gutter cleaning, we take pride in our work. We have customers in Atlanta, Roswell, Alpharetta, Duluth, Norcross, Braselton, Grayson and most of the metro Atlanta area. Dive us a call and we will come by and give you a quote and work hard to gain your business.


TLC Pressure washing making your HOA community look its best. We handle all of your residential and commercial exterior cleaning needs. What can we do?
For your home:
*House Wash
*Roof Cleaning
*Deck and Fence Cleaning
*Driveway and Patio Cleaning
*Deck and Fence Staining
*Driveway and Walkway Sealing
---

For your Office
*Building Wash
*Store Front Cleaning
*Restaurant Cleaning
*Drive Thru
*Parking Garage
*Awning Cleaning
*HOA
*brick cleaning
And much more.
We are fully licensed, insured and Bonded for your protection serving