TLC Cleaning Services has been the first choice of homeowners in Buckhead, Vinings and Atlanta for more than 30 years. Our customers know we care about every job we do. Each of our cleaning professionals takes pride in their service. In all our services we strive to be meticulous, efficient and always respectful. Below is a list of the services we offer.
---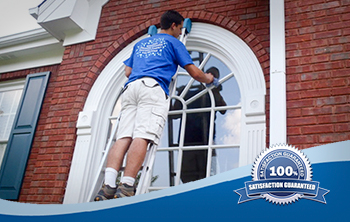 ---
House Washing
Gutter and Down Spouts cleaned
Chimney Wash
Fence Wash
Driveway Wash
Step and Porch Wash
Fence Wash
Garage Wash
Patio Wash
Walk Way Wash
Pool Deck Wash
Deck Wash
---
House Washing:
Cleaning the exterior of your home is recommended each 12 – 18 months. This not only enhances the appearance of your property but also defends your paint and siding from the harmful results of mold and mildew. You may be surprised how much dirty water comes off of a home that has not been cleaned in over a year. Your home will look and smell great after our cleaning services.
TLC Cleaning use professional grade cleaning solutions and the best hot & cold water equipment available along with competitive prices. We are the pressure washing specialists, and our cleaning techniques will have your home exterior looking great. We will have your property looking great while protecting any surface we clean.
Window Cleaning:
Some of our customers like to have the windows hand detailed after the pressure washing. This service gives windows a final shine and streak-free finish. We recommend waiting until after the pressure washing job to decide on hand detailed window cleaning. Most of our customers are happy with the results of pressure washing alone. We offer both exterior and interior window cleaning.
Driveway Washing:
Pressure washing of the driveway is one of the main services that real-estate agents request from us. This is because it adds a dramatic curb appeal to your home. We remove algae that can accumulate on your driveway. Algae can have a blackening effect on concrete and be slippery. We recommend having the curb pressure washed at the same time you pressure wash the driveway.
We are able to remove gum residue with ease. The advantage of the surface cleaner is that it will not produce the sporadic striping that many times is evident from only using a wand. TLC Cleaning has cleaned thousands of driveways all over metro Atlanta. We guarantee that your driveway will be as clean that safe pressure washing will allow.
Sidewalk Washing:
Sidewalks are the entrance way of your property. Sidewalk cleaning can dramatically improve the curb appeal of you property, especially when you have a clean driveway and a well maintained front yard. Our sidewalk washing methods begin with application of a commercial concrete cleaning and brightening solution. We always protect the structural integrity of any surface we clean. There will be no gouging or chipping to the surface.
Pool Deck Washing:
Pool decks is one of the highest traffic areas of a home. Due to constant moisture, mold and algae grows fast and it looks bad and can be extremely slippery. Our pool deck cleaning procedures includes environmentally safe cleaning solutions and a hot water pressure washing that is done with a surface cleaning machine. Pool deck cleaning is recommended every 8 – 12 months. For homes that have alot of trees surrounding the pool area, or high traffic areas, these should be cleaned twice a year.
Patios & Patio Furniture:
We can safely clean any area on your patio. We also offer concrete, stone, and wood sealing. Sealing your patio will help it look its' best for years to come.
Gutter Cleaning:
Gutter cleaning almost always requires the use of ladders to access the roof. Heights are no problem. The first thing to consider before hiring out your gutter cleaning, is to check that they have the correct insurance. Can they provide you the proof, the certificate of insurance that proves they have high limits of both general liability? You are totally covered in the event of an injury or damage.
Clean and unclogged gutters are very important to the integrity of your property. During a rainstorm, gutters route runoff water from a home's roof to where it can drain away from the house. By doing so, they protect siding, windows, doors, and foundations from water damage and help prevent flooding in basements. To function properly, gutters and downspouts must regularly be cleared of leaves and debris. If they aren't, drain outlets will dam up and rainwater will fill the gutters, back up, overflow, and eventually pull gutters loose from their mountings. Water that pools in troughs will rot wood and rust gutters. If your gutters are not regularly maintained it could cost you a small fortune in repairs down the road.
Who Are Our Customers?
We are a Georgia based business that provide exceptional customer service and Window Cleaning as well as Pressure Washing. As a quality provider of window cleaning, pressure spraying and gutter cleaning, we come to you. We have customers in Atlanta, Mid-town, Roswell, Alpharetta, Duluth, Norcross, Buckhead, Braselton, Grayson and most of the metro Atlanta area. We pride ourselves on providing the highest quality services for your dollars spent. Pressure washing is a key to maintaining and restoring the beauty of your home. By using the highest caliber pressure washing equipment and cleaning chemicals, we make sure you are satisfied with the final project.